AT FOUR FLOURS® WE WORK HARD TO MAKE CERTAIN OUR PRODUCTS WILL MAKE YOU SMILE. HANDMADE WITH EXTRAORDINARY CARE, EVERY INGREDIENT IS ALL-NATURAL AND OF THE HIGHEST QUALITY. ALWAYS FRESH, EVERY ONE OF OUR BAKED GOODS IS HEADED OUT THE DOOR WITHIN HOURS OF LEAVING THE OVEN. ENJOY BREAKFAST OR LUNCH DAILY WITH OUR HOUSE-MADE ITEMS CRAFTED FROM FRESH, ALL-NATURAL INGREDIENTS.

Chocolate Chunk
with ground flaxseed

Toffee Coffee
with house-made toffee

Oatmeal Chocolate with coconut 

Oatmeal Cranberry with white chocolate 

Double Chocolate
(GF + Vegan)

Peanut Butter
(GF + Vegan)


Blueberry Oatmeal
(Seasonal)


Triple Chocolate Chunk (Seasonal)

Peppermint Crunch (Seasonal)
Cupcake flavors rotate daily. Follow us on social media to stay up to date! For custom orders, we require at least 48 hours notice and 6 cupcake minimum per flavor.
Chocolate Covered
Strawberry

Chocolate Chip
Cookie Dough

Pumpkin Spice Latte
(Seasonal)

Lovely cakes from scratch and all-natural*. In all the flavors of our cupcakes. As we bake to order, please give us 48-72 hours notice. While we love the pastel beauty of our all-natural products, upon request we will use traditional bakers' dyes to create a brighter color for you. Ready-made cakes are always available in store; flavors rotate weekly.

White Chocolate Chunk
Brownie

Cranberry Almond
with white chocolate

Pistachio & White Chocolate

| | | | |
| --- | --- | --- | --- |
| | | | |
| | | | Raspberry White Chocolate |
| | | | |
| | | | |
| | Chocolate Chip Banana (GF) | | |
| | | | |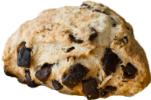 Chocolate Chunk
Cran Orange